By Mateusz
Dilijan, Armenia from 25th of November – 03th of December 2014
General information:
Hosted by the Italian organization "Vicolocorto" in cooperation with the "Youth Cooperation Center" of Dilijan the training course focused on several important aspects concerning successful and nonviolent conflict management. Supported by two coaches from Germany and Italy, both long-experienced workers on peace education, the participants contributed by many different ideas and experiences to the programme. All sessions were held in an outstanding atmosphere, characterized by the high motivation and work dynamic of the young volunteers. Completed by an intensive training on facilitation skills and an almost perfect organization of all logistic matters, it led into an extraordinary, much demanding, but still really joyful event. From our "Deutsch-Polnisches Kompetenzteam" Frankfurt (Oder) Mateusz was participating in the training course.
When did it take part?
November 25 – December 3, 2014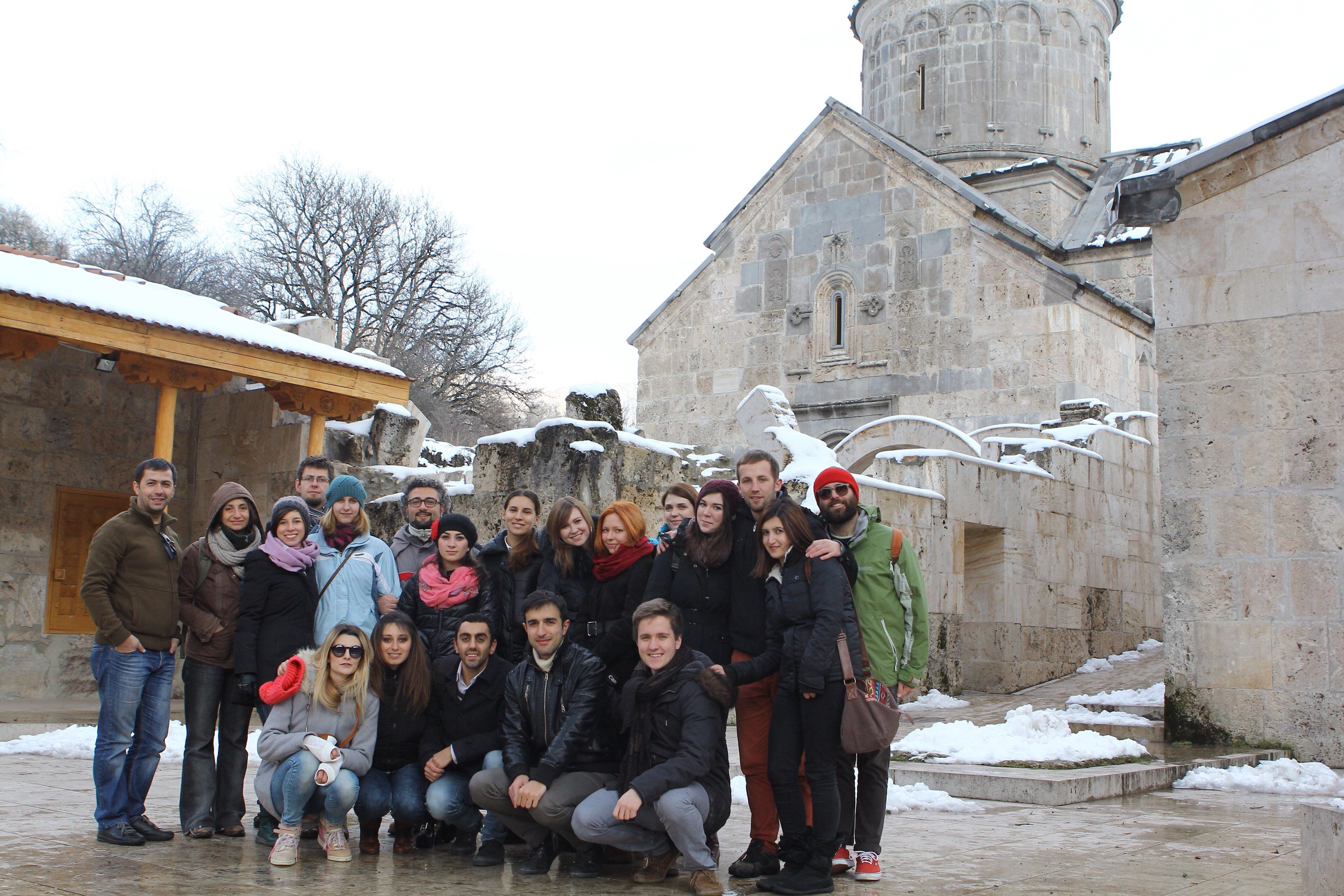 Who were the participants?
Altogether, 24 participants between 18-29 years found the way to the Dghyak hostel in Dilijan to discuss about conflict transformation, different methods of peace education and to practice their facilitation skills. Most of them represented one or more NGOs from their home countries Armenia, Italy, Georgia, Germany, Poland and Ukraine. Besides a well-organized and wonderful intercultural evening the participants could share experiences about their work within a NGO-fair in the middle of the training.
Main issues of the event?
The main task of the training course was to share many different education tools in order to empower young people to become active agents of peaceful change of conflicts in their home regions, especially regarding the current political situation in Europe and the Caucasus region. Other objectives were: getting familiar with value-based approaches of education of peace, sharing of educational methods for working with youngsters in conflict analysis and resolving, and last but not least, designing educational programmes on peace education for young people. These goals where reached by using different kinds of group work, role plays, strategic exercises, simulation games and theoretical trainee-led workshops. Accomplished by an excursion to one of the most famous monasteries in the region of Dilijan the training course was a real contribution to the personal development of the highly-motivated participants.
What will stay in our mind?
The highlight of the event was surely the time-consuming training and improving of facilitation skills thanks to an intensive session preparation, followed by six powerful presentations concerning topics like unemployment, multiculturalism or prevention of gender-based violence. Regular self-reflection, constructive feedback discussions, countless ice breaker games and the amazing team work have shown that the training course was an awesome contribution for further projects and activities of the future facilitators. Besides the issues of the training it should be mentioned that despite the fact, that Armenia is a comparatively small country, thinking about the lake Sevan, many big woods and a great number of beautiful mountains makes clear that is has a really breath-taking nature, in summer and in winter.