Youth Exchange: Meet Up Eco-Logical: Educated, Competent, Open-minded
With this project, we would like to stress that the responsibility for the ecological situation concerns every individual person, but only acting together we can save our planet. We are going to talk about the everyday lives of people from Ukraine and Germany and how it influences on the environmental situation. In this part, we will fabricate upcycling products. Through the project, participants will experience how to use creativity for a change.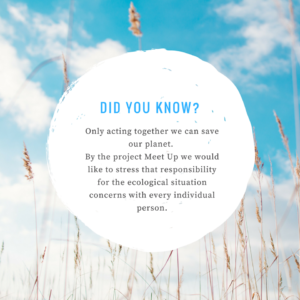 Our next youth exchanges and projects:
[ ] YE Recycling -> 04.-13.04.2018, EuroCamp
[ ] Sustainable Foundations for Sustainable Partnerships -> 03.-10.05.2018, EuroCamp
[ ] Sommercamp der Partnerstädte -> 04.-17.08.2018, Eurocamp
Write us a message and join our skills developing Projects and Youth Exchanges!
It's a great possibility to meet new people and improve your language skills!